Sanji's Skyblock
Published 1st Feb 2023 by
ADMIN
Have You Been Looking for a Skyblock Realm? Well You Picked The Right Choice! This Realm Has Lots Of Features including A Custom GUI, Custom Commands, Co-op Features, PVP, And Works On All Bedrock Devices
---
Have You Been Looking for a Skyblock Realm? Well You Picked The Right Choice! This Realm Has Lots Of Features including A Custom GUI, Custom Commands, Co-op Features, PVP, And Works On All Bedrock Devices
What exactly is Skyblock?
As a consequence of its widespread popularity, the original Skyblock map has been adopted as a game mode by a large number of Minecraft servers.
Minecraft's Skyblock map is one of the most well-known and most often played in the game. Starting on a little floating island with just a single tree, a bucket of lava, and a piece of ice as your sole belongings, you must work your way up the ranks. It is now your responsibility to survive as long as you possibly can and, eventually, to beat the game! -
Because of its broad popularity, this well-known map has inspired a flood of knockoffs and has even evolved into a game mode on multiplayer Minecraft servers.
Getting Things Started
The skyblock map will be very useful to you on your first day in the game. Any grass or flowers you have should be mined to see if you can get at least one seed from them. Break up the dirt on your island next, being care to leave at least a few grass blocks behind for subsequent use as a foundation. Place the dirt around the tree in such a manner that any falling seedlings will be caught by the soil. Taking down the tree and using the wood to construct a crafting bench and a wooden pickaxe is a good idea. Capture the seedlings and plant them as soon as possible to ensure a successful harvest. Checking the contents of a chest before opening it is a wise decision. In most instances, you'll begin with a few crops, such as sugar cane, melons, and pumpkins, as well as some obsidian for use in crafting a gateway to the other world. There is also a pail of lava and a bucket of ice to play with. Create a T-shaped hole one block deep to serve as the foundation for your cobblestone generator. Place a block in the center, followed by two slots of water and lava on each side of the block. It is necessary to break the center block in order to fit it into the last slot, and then it is necessary to break the cobblestone that forms. Make ensure that the blocks around the lava do not contain any flammable materials, or else they will catch on fire and burn to the ground. Make an effort to mine as much cobblestone as you possibly can and use it to build a comprehensive collection of stone instruments in the process.
Co-Op Skyblock Islands
Shop
Warps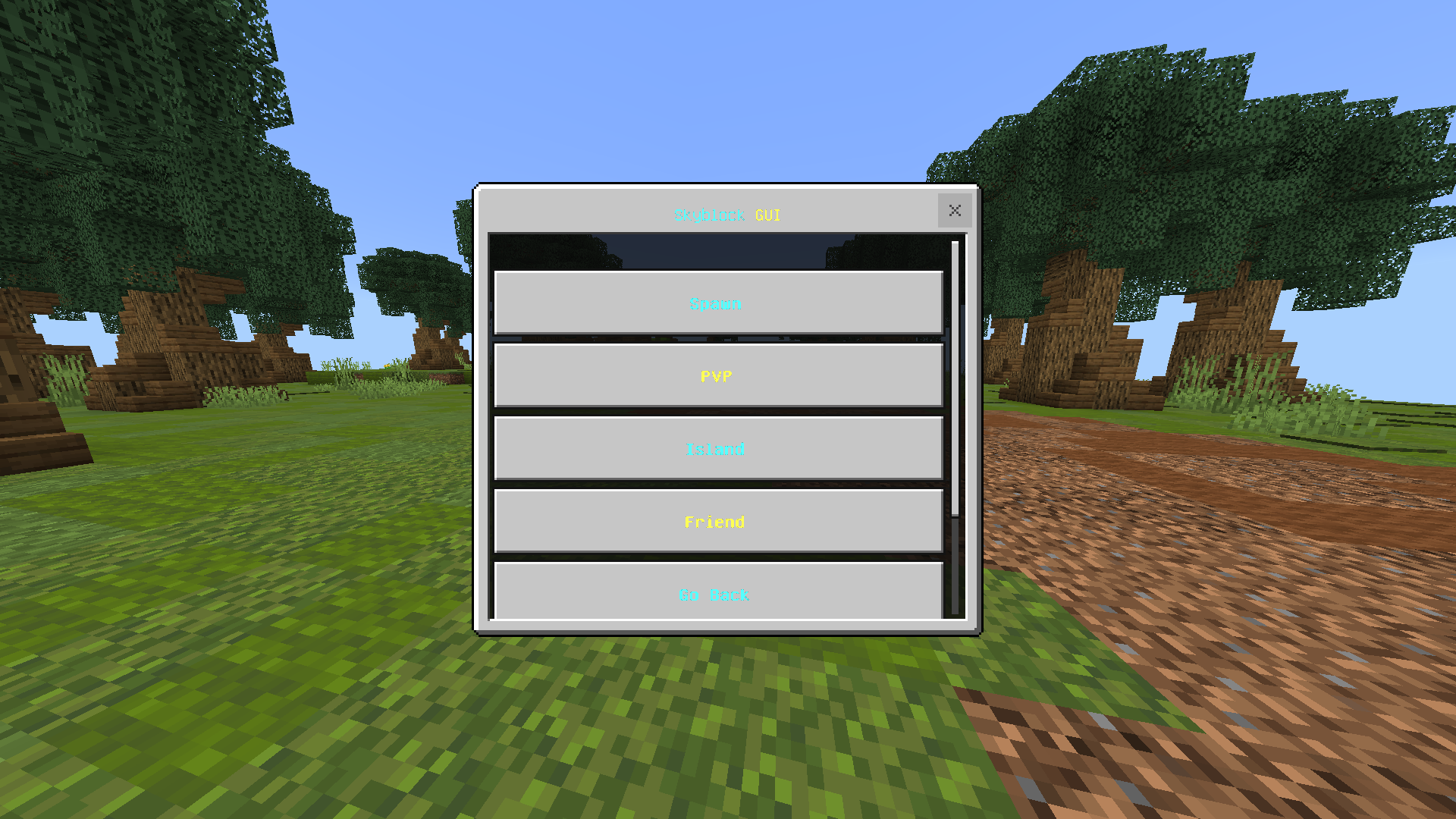 Spawn
Sanji's Skyblock
|------------------------------------------|
• Friendly Players
• Custom GUI
• Custom Commands!
• Shop
• PVP
• Can Co-op With Lots Of
Players
• Ore Spawners
|------------------------------------------|